Order you Hot Shots Parent's gear from Oak Tree Embroidery
The images below are samples of what the product from "Oak Tree Embroidery" will look like.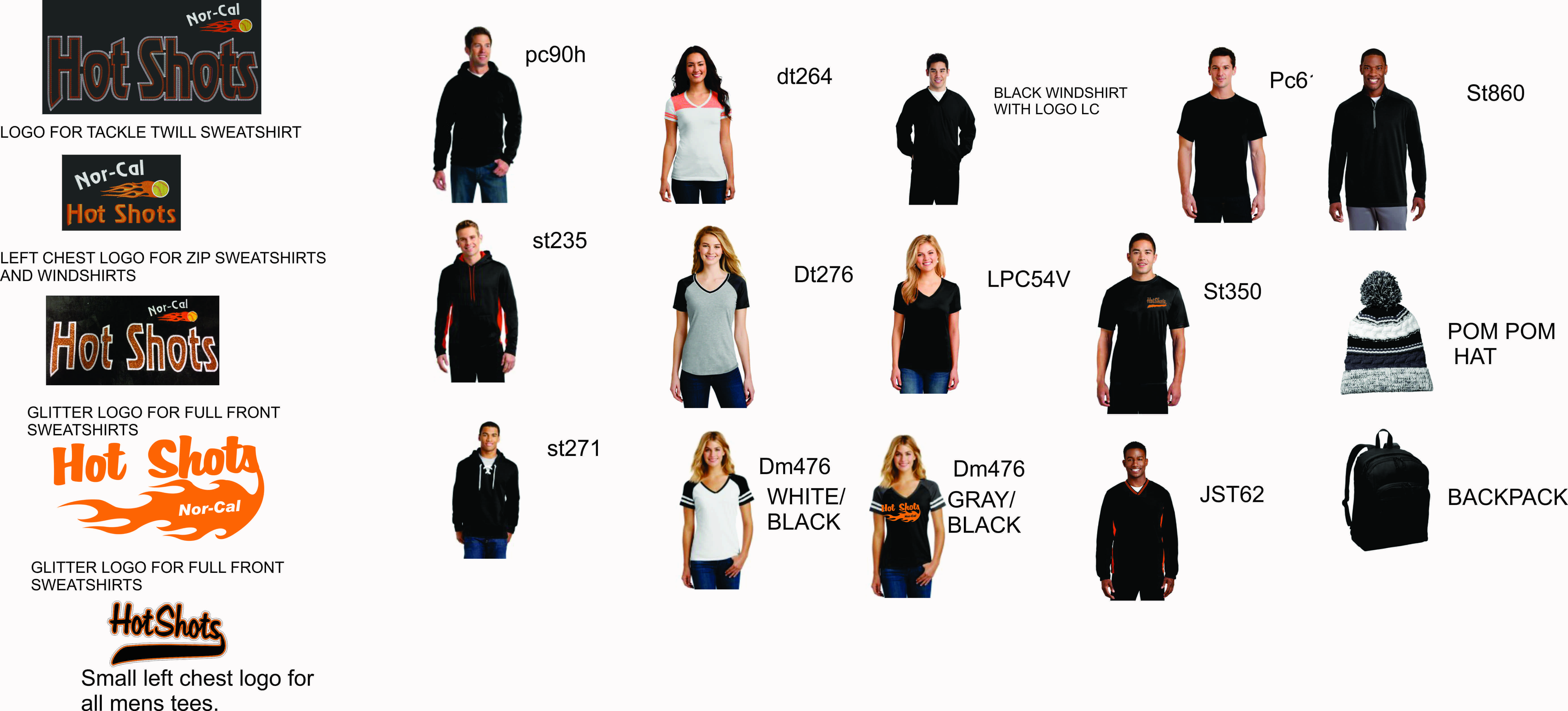 Item #
Description
Price
PC90H




Black hooded sweatshirt with Tackle Twill
S-XL, (plus sizes extra)
-Add number to back
-Add TT number to back

$36.00 - S-XL

$3.00
$8.00
ST235



Performance sweatshirt
Tackle twill front


$46.00 - S-XL
$50.00 - 2XL
$52.00 - 3XL
$56.00 - 4XL
ST271
Lace front sweatshirt with TT
$44.00
DT264
Orange and white jersey junior fit
$18.00
DM476
Black and grey jersey
$18.00
DM476
Black and grey jersey women fit
$18.00
PC54V
Womens black vneck tee
$14.00
PC61
Mens tee with front logo
$12.00
ST350
Men performance tee with tail
$14.00
JST62
Windshirt black and orange
with logo embroidery lc
$29.00

ST860
Mens and ladies 1/4 zip
Avail March LC embroidered logo
$35.00

HAT
Pom pom hat with small hot shot
$13.00
HAT2
Pom pom hat black and grey
$13.00
GLOVES
Orange knit small, medium or large
$5.00
SCARF
Orange/black knit scarff small logo
$13.00
BACK
Black backpack with logo
$20.00
BAG
Small bag with logo
$14.00
To place an order, please email: [email protected]
Please include Item #'s and sizes.
All purchases are processed by and through "Oak Tree Embroidery"
Final prices may vary from the above. Please send all inquiries to "Oak Tree Embroidery"